Kansas City at New England
When: 8:30 PM ET, Thursday, September 7, 2017
Where: Gillette Stadium, Foxborough, Massachusetts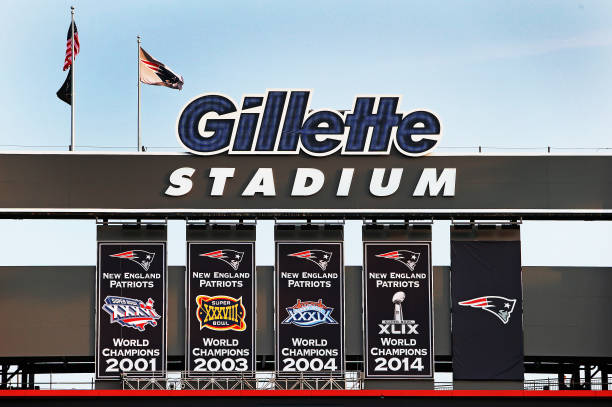 ###
FOXBORO = Seven months removed from the greatest comeback in Super Bowl history that burnished the legacies of Tom Brady and Bill Belichick, the New England Patriots open the 2017 season on Thursday night against the visiting Kansas City Chiefs. Emotions should be high as the Patriots celebrate their fifth world championship in a pregame ceremony.
Brady, who turned 40 last month, became the first quarterback in history to win five Super Bowl titles, rallying New England from a 25-point deficit in the second half to a 34-28 overtime win over the Atlanta Falcons. New England, the last team to repeat as Super Bowl champ in 2003-04, was not content to stand pat in the offseason and brought in an elite wide receiver in Brandin Cooks — an acquisition even more noteworthy after fellow wideout Julian Edelman suffered a season-ending knee injury last month. The Chiefs face a daunting challenge against a club that has won 24 in a row at home against non-division AFC opponents, but they have plenty of talent on both sides of the ball, having won 23 games over the past two seasons and claiming the AFC West title in 2016 with a 12-4 mark. "If you're in this business, that's what you thrive on, and I'd tell you both sides feel that way," Kansas City coach Andy Reid said of facing the Patriots. "The players, that's why they play the game. They want to play against the best. You want to coach against the best — that's a beautiful thing."
TV: 8:30 p.m. ET, NBC. LINE: Patriots -9. O/U: 48.5
ABOUT THE CHIEFS (2016: 12-4, 1st in AFC West): Quarterback Alex Smith doesn't put up big numbers — his 3,502 passing yards in 2016 were a career high — and has been tagged with the label of game manager, but the former No. 1 overall pick has tossed only 28 interceptions versus 76 scoring passes in four seasons in Kansas City. With the departure of veteran Jeremy Maclin, Tyreek Hill becomes the top target following a flashy rookie season in which he amassed 12 touchdowns — six via scoring passes, three on the ground and three in the air. Rookie running back Kareem Hunt, a third-round pick who piled up nearly 5,000 yards over four seasons at Toledo, ascended to the starting job when Spencer Ware underwent season ending knee surgery, while Travis Kelce is widely considered the league's No. 2 tight end behind New England's Rob Gronkowski. There's plenty of talent on the other side of the ball, with perennial Pro Bowl safety Eric Berry leading a secondary that tied for the league high in interceptions, and Dee Ford and linebacker Justin Houston providing a pass rush that needs to pressure Brady.
ABOUT THE PATRIOTS (2017: 14-2, 1st in AFC East): Brady missed the first four games in 2016 while under suspension for the Deflategate saga, but returned to throw for 28 touchdowns against only two interceptions before capping the season with a record 466-yard performance in the stunning comeback in Super Bowl LI. Edelman was Brady's most trusted target with at least 92 catches in three of the past four seasons, but Cooks provides a dynamic big-play threat with 17 scoring passes over the past two years in New Orleans while touchdown machine Gronkowski (68 in 88 games) returns after back surgery ended his season after eight contests. New England was willing to let LeGarrette Blount and his NFL-high 18 rushing TDs leave via free agency, bringing in Mike Gillislee from Buffalo and Rex Burkhead from Cincinnati to go with Super Bowl hero James White in the backfield. New England led the league with an average of 15.6 points allowed last season and bolstered the defense with the signing of free-agent cornerback Stephen Gilmore, who registered a career-best five interceptions for Buffalo in 2016.
EXTRA POINTS
1. The Patriots have won eight consecutive season openers and seven in a row on Thursday night.
2. Kelce had 85 catches last season and led all tight ends with 1,125 receiving yards.
3. Brady, the 13th QB to start a game at age 40 or older, is 9-0 with 24 TDs and two interceptions on Thursday night.