BOSTON – (Staff report by Digital Sports Desk with wire service coverage by The Sports Xchange) – Hanley Ramirez and Sandy Leon drove in two runs apiece in an eight-run fifth inning that carried the Boston Red Sox to a 10-4 victory over the St. Louis Cardinals on Tuesday night. Ten straight Red Sox reached base and 13 came to bat in chasing Mike Leake (7-11) and propelling Boston to its 11th win in its last 13 games. The victory brought the Red Sox to a season-high tying 17-games over .500.
Rick Porcello, helped by a fourth-inning triple play turned on a Jadier Molina grounder, allowed three runs in the sixth inning after being staked to a 9-0 lead but worked through seven for his third straight victory. The reigning Cy Young Award winner improved to 7-14 — 3-0 in August — after going more than a month without a win.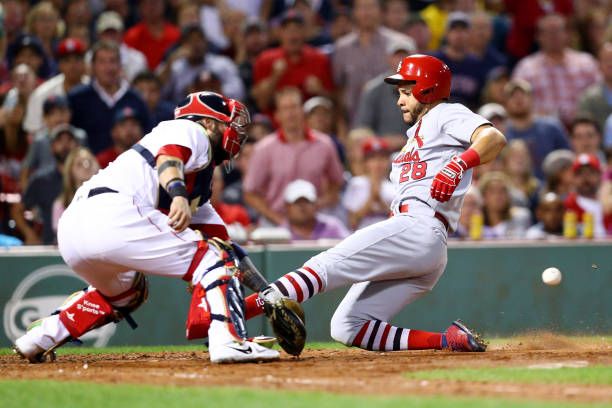 ###
The Red Sox, who maintained their 4 1/2-game lead on the New York Yankees in the American League East, have won all three games against the Cardinals this season. It was St. Louis' first visit to Fenway Park since losing the sixth game of the 2013 World Series. The Yankees won at home against the New York Mets.
Jackie Bradley Jr. also drove in two runs and Xander Bogaerts contributed three singles to the 15-hit Boston attack that included two more hits for rookie sensation Rafael Devers.
Dexter Fowler had three hits, including a two-run double, for the Cardinals, who lost their second straight after an eight-game winning streak. They trailed the Chicago Cubs by 1 1/2 games entering Tuesday.
In his last two starts, Leake has allowed 20 hits and 13 runs (12 earned) in 9 1/3 innings.
The triple play was the first for the Red Sox since they turned one against the Tampa Bay Rays on Aug. 16, 2011. It was the first turned against the Cardinals since May 9, 2015 — and Molina hit into that one too.
Through five innings, the Red Sox, who took a first-inning lead on three straight two-out singles, had turned two double plays to go along with the triple play. Molina also hit into a double play.
Things were quiet and quick until the fifth, when the home team chased Leake and broke the game open. Ramirez belted a ringing double off the wall in left. After an intentional walk to Devers reloaded the bases, Bogaerts and Mitch Moreland singled in runs to chase Leake.
Leon then greeted Matt Bowman with his two-run double. Bradley, who flied out to start the inning, singled in a run and Eduardo Nunez stroked his second hit of the inning for another run. It took a nifty grab in left field by Tommy Pham to end the inning.
Leon ended the previous inning when he was robbed by a diving Randal Grichuk in right field.
NOTES: Red Sox 2B Dustin Pedroia will be out longer than the minimum 10 days in his second straight stint on the disabled list because of his balky left knee. … Cardinals 3B Jedd Gyorko, who received a cortisone shot in his right knee Sunday, was able to return Tuesday after sitting out the weekend. … Several members of the Cardinals visited the inside of the Green Monster earlier Tuesday. … Boston LHP David Price (elbow) continues to throw off flat ground with no return date in sight. … The Red Sox will honor the 50th anniversary of their 1967 Impossible Dream team that lost a seven-game World Series to the Cardinals on Wednesday. … The Boston Globe reported domestic battery charges against Red Sox TV analyst Steve Lyons stemming from an argument with his girlfriend in January, were dismissed in California. … RHP Lance Lynn (10-6, 3.12 ERA) pitches for St. Louis against LH Eduardo Rodriguez (4-3, 3.80) in the series finale Wednesday. Strangely enough, the pitching matchups for the two games in St. Louis were the same as in the rematch, but in reverse order