Pittsburgh at Nashville
When: 8:00 PM ET, Sunday, June 11, 2017
Where: Bridgestone Arena, Nashville
NASHVILLE – The Pittsburgh Penguins are poised to make history, bidding to become the first team to win back-to-back Stanley Cups since the Detroit Red Wings in 1997-98. The Penguins will go for the clincher when they visit the Nashville Predators on Sunday night in Game 6 of a best-of-seven series that has been defined by home dominance.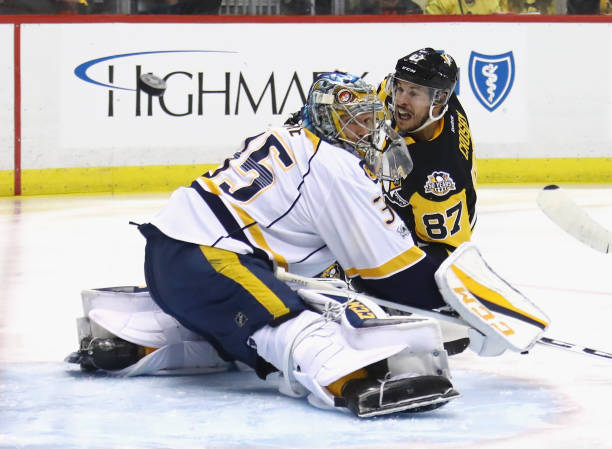 ###
Captain Sidney Crosby and Co. moved within one win of hoisting Lord Stanley's Cup for the third time in nine seasons by demolishing the Predators 6-0 in Game 5, but Pittsburgh has been outscored 9-2 in dropping both matchups at Bridgestone Arena. "Still a lot of work to be done," Crosby acknowledged. "We know we're going to face a desperate team. We've already played two games there and know the atmosphere and know how much they feed off their fans. We've still got a lot of work to do there." So do the Predators, who rebounded from a pair of drubbings to win Games 3 and 4 and must hold serve again in Smashville, where they are 9-1 during the postseason. " … What happened in Game 5 is gone. We know what we need to do in Game 6," Nashville coach Peter Laviolette said. "We know how we're capable of playing, especially in our building here and look to get ourselves a big win."
TV: 8 p.m. ET, NBC, CBC, Sportsnet, TVAS
ABOUT THE PENGUINS: Crosby won the Conn Smythe Trophy a year ago in leading Pittsburgh to the Cup and is lifting his game when it matters most, collecting three assists in Game 5 to give him seven points in the series and 27 in the postseason — one behind teammate Evgeni Malkin. "I don't know that I've ever been around an athlete — not just a hockey player but an athlete — that is as driven as Sid is," Penguins coach Mike Sullivan said. "He sees the opportunity in front of us, and he's doing everything within his power to try to help us be successful." Malkin, the 2009 Conn Smythe winner, is in position to win it twice with a goal and an assist in Game 5 to boost his playoff-leading total.
ABOUT THE PREDATORS: Veteran netminder Pekka Rinne was yanked for the second time in the series after allowing three goals on nine shots in Game 5 but, like his team, has been superb at Bridgestone Arena, turning aside 50 of 52 shots in Games 3 and 4. "I'm worried about his record now at home, and it's been outstanding," Predators captain Mike Fisher said of Rinne. "We gotta focus on that game. We gotta be better for our goaltender, no question. You look at the shots, and they're even, but it's scoring chances, quality chances. That's not our goaltender's fault." Center Colton Sissons was cleared to play after receiving a match penalty in Game 5, but has registered only one assist in the past four games.
OVERTIME
1. Predators D Ryan Ellis left Game 5 because of an undisclosed injury and did not skate at Saturday's optional practice.
2. The Penguins have won all four of their Stanley Cups on the road, including Game 6 at San Jose a year ago.
3. Nashville closed out series against St. Louis and Anaheim with Game 6 victories at Bridgestone Arena.
PREDICTION: Penguins 4, Predators 2